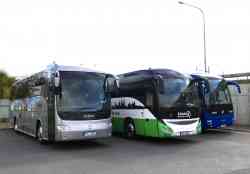 Karviná, Irisbus Domino HD 12.4M # 5T4 2253
Karviná, IVECO Magelys PRO 12.8M # 1TD 8222
Havířov, Autobusové nádraží
Baník Bus

Bus on the right is bus of football team Baník Ostrava (not sure if first team uses it). The shareholder of 3ČSAD, Václav Brabec, is owner of FC Baník too and he invested loads of money in the club.

https://isport.blesk.cz/clanek/fotbal-1-...ndalu.html

Автобус вправо — от футбольного клуба Баник Острава (если им пользуется первая команда не знаю). Аукционер 3ČSAD, Вацлав Брабец, является также владелцем Баника, до которого дал много денег.
Wednesday, April 17, 2019
Author: Tučňák
¤